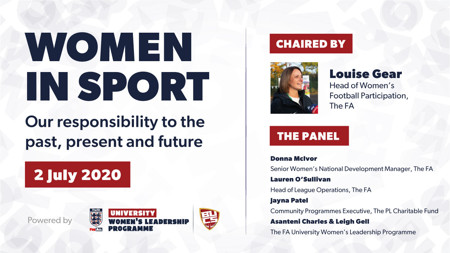 With a large number of competitions being cancelled or cut short, including the Women's Super League, many questions have been raised regarding the impact of this on the growth of women's sport.
Powered by The FA University Women's Leadership programme, join us in our free webinar as we discuss what we can all do now, and in the future, to protect the work that has already been achieved to grow the presence of Women in Sport.
Chaired by Louise Gear, Head of Women's Football Participation (The FA), the webinar will include a discussion and the opportunity for your questions to be answered by our expert panel:
Donna McIvor, Senior Women's National Development Manager (The FA)
Lauren O'Sullivan, Head of League Operations (The FA)
Jayna Patel, Community Programmes Executive (The Premier League Charitable Fund)
Asanteni Charles, The FA University Women's Leadership Programme
Leigh Gell, The FA University Women's Leadership Programme
If you have a question or are having issues booking, please get in contact, email website@bucs.org.uk.