L.E.K., a global strategy consulting firm recognised for its strategic and commercial work with some of the most innovative and most successful organisations in the world, have partnered with two of BUCS' largest female programmes.
L.E.K. have partnered with BUCS to ensure talented students from across UK universities are aware of the career opportunities available to them, which includes the diverse and rewarding graduate programme at L.E.K.
L.E.K. believe in the overlapping skillset between sport and employability, recognising that, although academia is a crucial element of university life, the most rounded employees have a wealth of experience outside of their studies.
Learn more about the graduate programme
BUCS Chief Executive, Vince Mayne

"We're proud to work with talented student leaders from our 160 universities and colleges and delighted that L.E.K. Consulting recognise the talent across our membership. We want to work with partners who offer fantastic programmes for our talented students when transitioning in to their early careers. We believe L.E.K. Consulting offer graduates an excellent and truly unique opportunity and encourage our members to apply for their graduate programme."
L.E.K. Consulting, Recruitment Manager, Isobel Newson
"We are very excited about our new partnership with BUCS, which is a fantastic opportunity for us to support university sport and to build relationships with BUCS members. It is a great platform for us to share more about L.E.K. Consulting and to introduce our graduate Associate programme. We wish all BUCS members well for the current season and look forward to meeting as many of you as possible through our upcoming recruitment activities."
BUCS was supported by Caytoo, a data-driven sports marketing business to create the partnership with L.E.K. Consulting.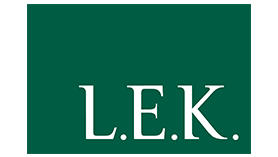 To learn more about L.E.K. Consulting, their graduate programmes and how to apply, visit their page.