Like many students, Otega didn't have a specific career path in mind when graduating in 2016. An American Football player at heart, with a Biological Science degree from Brighton University, he didn't have a clear-cut route to follow.
Two years later, it was on a trip to Kenya working for a charity and teaching local people vital business skills, that Otega had the eureka moment to turn his talents to teaching. Through the support of his university careers office, Otega decided to apply for the Teach First programme, and following a successful interview, was placed at a school in the West Midlands.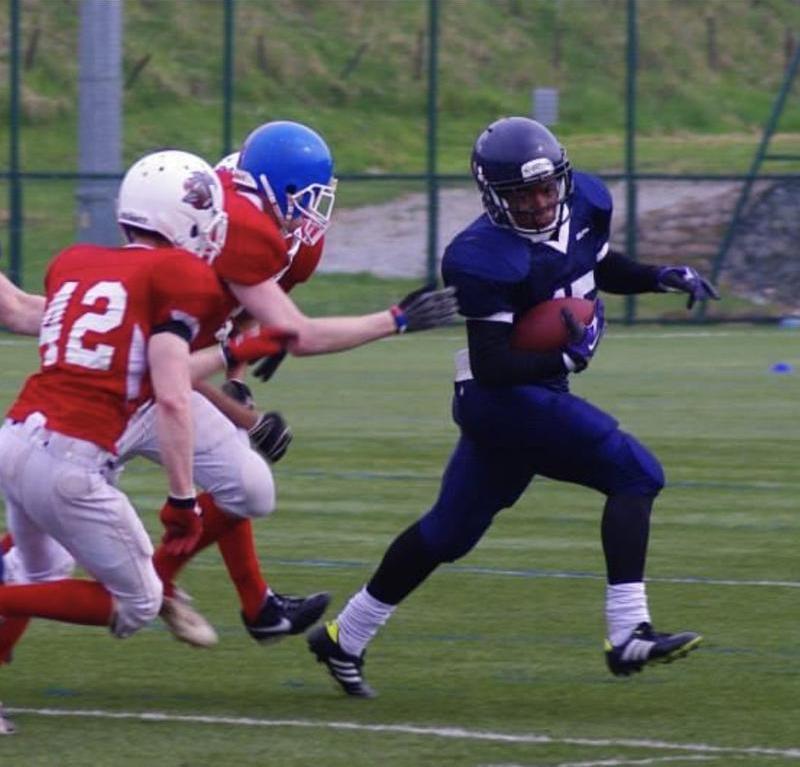 Otega playing for the University of Brighton's American Football team
We caught up with Otega to hear how his experience playing BUCS sport helped him develop vital skills in the classroom. Back in his Brighton University days, Otega joined the American Football team to meet new people, where he also enjoyed a huge amount of sporting success - Otega and his team went on to win the BUCS South Coast Conference Championship following an unbeaten season.
Otega reflects that "so many things go hand in hand when you're a sports person and when you're a teacher". With experience of high-pressure situations in sport, he emphasises how this transfers perfectly into the classroom. Sport gave him the ability to "command the room of students", as well as being able to react and troubleshoot any unexpected problems.
Whilst admitting he could "go on for hours" about all the skills he's learnt from being a teacher, (don't worry, we didn't let him), Otega explained just how many transferable skills you gain from being a teacher, with communication, patience, analysis and resilience being just a few. He also explained how the scheme really allowed him to push himself, and how after just three years of teaching, he has gone on to take a managerial role within his school.
Teaching wasnt always something that Otega was looking to go into, in fact he recalls "if you'd have asked me if I wanted to be a teacher when I was at university, I'd have said definitely not."
However, Otega speaks so passionately about Teach First, highlighting how "it really sets you up for life". He adds that "being associated with the Teach First brand really opens new doors for you as it's such a well-respected programme", and can testify that from his own experience, noting the impressive support given to every teacher; "they are really invested in your personal growth."
Four years on, the pathway from sport to the classroom has become the best journey possible for Otega; he's found that "going to work every day and actually having the opportunity to change people's lives and circumstances is the most rewarding experience possible."