Hey, where did my fixtures and results go?

You may have noticed some changes to the BUCS website. Welcome to our new home, we hope you enjoy the new aesthetic!

We've said a fond farewell to our old fixtures and results system BUCScore and a big hello to our new platform, BUCS Play.

BUCS Play is the new home of university sport; an app for all your fixtures and results, and the gateway for entering our events.

But first, you'll need an account

To make your digital experience better, everyone will need to create an account. Yep that even includes our fans, parents and best friends who just want to check out the leagues tables.

What are you waiting for, download the app

To get the best experience out of BUCS Play, download our app on your smart phone.

Find your sport - and then join or follow a team. Or, apply to enter an event.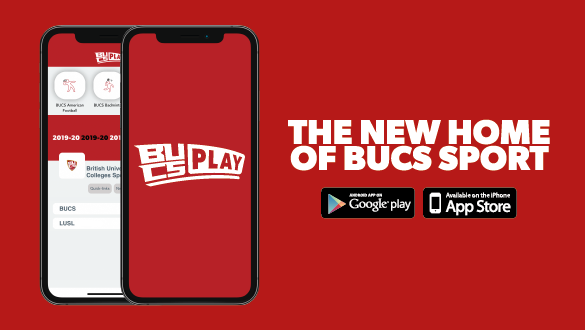 Also coming soon, MyBUCS - the member portal

We love newness, so why stop at just BUCS Play.

For our staff who work at institutions, we will be launching a login area called MyBUCS. In MyBUCS you'll be able to:
Sign up to newsletters

View and pay invoices

Book development events (now under learning and education)

Access member only resources.
Stay tuned for when MyBUCS goes live later this month.
Are you a university wanting to promote BUCS Play to your students?

We've made a range of free resources for institutions. Download our marketing resource pack here.
Got a question?
Anything BUCS Play specific:
Or still trying to figure it all out, head to our contact us page and drop us a message.
Good luck for the new 2019-20 season.